EKO-FINISHER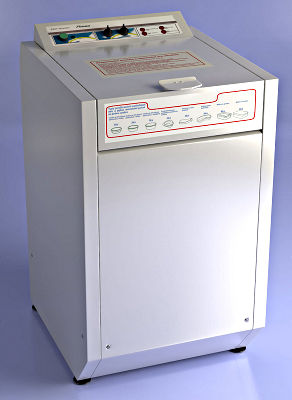 New Step in Disposal Technology for Hospitals, Health Care Centers and Medical Institutions
Our product EKO-Finisher was developed in 1998 and our first customers were from the Czech Republic. In the year 2000 we successfully started to export EKO-FINISHER to the European Union. We hope that also you will find EKO-FINISHER interesting and we look forward to giving you more information about this new medical project upon your request.
Hygienic and ecologically friendly program of EKO-FINISHER utilising specially treated recycled paper in the manufacture of receptacles for toileting of supine patients ensures reliable disposal of hygienic receptacles after their use.
EKO-FINISHER is a versatile disposal unit for quick disposal of used paper bed-pans, urine bottles, toilet receiver bowls, kidney bowls, sputum cups, etc. It offers the benefit of increased patients confidence, reduces their stress and contributes to their increased peace of mind.
The liquidation is very fast and very easy, the liquidating cycle takes 3 minutes. The costs of the liquidation are minimal. EKO-Finisher needs only electrical energy and cold water. EKO-Finisher is also equipped with disinfection program. This program guarantees the cleanness of the machine. It is not necessary to you use this program every time. You can choose, if you want to do the rinsing of the inside with or without detergents. We recommend doing the disinfection 2-3 per day.
New program brings major benefits for the patient and hospital staff:
Easy, fast, perfect and hygienic ecological disposal of single-use receptacles along with their content at low costs, presenting the patient with a new, clean, unused product even several times a day.
It minimizes the risk of cross-infection, contributes to the protection of the hospital staff and thus reduces the costs connected with the treatment of nosocomial infections, which are sometimes serious, complicating the treatment and the course of the disease. It also offers the benefit of patient's comfor t and good feeling, as the paper receptacles are warm to the skin and pleasant to touch.
It saves time to hospital staff, freeing the nurses to look after their patients and eliminates unpleasant work. Initial investment costs for the purchas e of the instrument are low compared to total economic benefits. Several pieces of hygienic receptacles can be disposed in a single disposal cycle. It elimin ates unpleasant manipulation and odour. It has a low energy demand.
The unit is simple to operate with an automatic flish cycle, disinfections program option and automatic replenishing of disinfectant and duration of the operating cycle is only 3 minutes.
The disinfecting program enables the disposal of receptacles even at places without a central waste water treatment plant. The dimensions of the instrume nt are ideal for placement in a majority of toilets or wash rooms in hospitals. For plimbing the unit, connection to water mains supply and electricity is re quired, similar to those of usual washing machine and connection to a toilet drain.
The unit complies with the relevant international standards and was certified by TÜV.
Technical data
 
EKO-Finisher
Water inlet – inlet valve
¾''
Connections to the toilet drain
70 mm
Load of receptacles
3 large receptacles
Voltage / frequency
220 V/ 230 V, 50 Hz
Duration of operation cycle
3 minutes
Power Consumption per operation cycle
36 Wh
Motor electrical consumption
1,1 kW
Water consumption per operation cycle
30 litres
Tank volume
26 litres
Pump electrical consumption
0,25 kW
Outlet valve opening
70 mm
Disinfecting tank
6 litres
Weight
104 kilograms
Noise
69,3 dB
Dimensions w/h/d
530 / 850 – 930 / 650 mm
Variants
White painted
Stainless